So folks, I caught a lot of flack from people for that last post there that I was complaining about the IMFL rankings not being as high as I would have hoped. I understand that the
Lake Placid
and
Florida
Ironman races are not easily comparable as
Florida
is as flat as a pancake and
IMLP
looks like a rollercoaster. I can understand that the times would not be comparable. But I still feel as though a 10:31 ironman deserves more than a 81 point ranking. I got an 88 point ranking for running a relatively slow
2:14
in an olympic distance tri this past year and the
2:07
that I ran in September only netted me a 84.6XXX ranking. So, in their eyes, running faster on a relatively similar course will get you a lower ranking? I'm just saying that I think maybe the ranking system might need a little fine tuning.
However, to brighten things up a bit. I logged on to check out the
rankings
today and to my surprise, the
preliminary 2006 year end triathlon rankings
were up! Preliminarily, I have a 88.3963 ranking, good for 77th out of 840 in the male 20-24 age group which sneaks me into
All American Honorable Mention
status!!! Whooo-hoo! I'm pretty excited to see that as I was no where NEAR that kind of a ranking last year and working your tail off for 12 months is finally showing on a national basis. This was the only picture I could find...and as we all know, a post with a picture is more interesting to read :) It's kinda like this, but not really: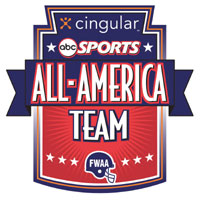 Pulling out the 2005 rankings edition of "Triathlon Life", I ended my 2nd season of triathlon with a 81.6450 and was ranked 173/532 in my age group. There were no honors last year, I was just another number. This year it was a secret goal of mine to get into at least HM status, and it appears that I snuck in. Turns out I was the first New Yorker in my age group, so I can say I am number one in my age group in NY right now :) - I like to think of all the positives that can be construed out of this ranking!
Well, it wasn't only me that performed well this past year, there were many many others who got honors from their hard work. (Specifically, the top 10% in each age group! - top 5% get AA honors and the next 5% get AAHM honors) So congrats to everyone for a stellar 2006 season.
Other notable fast friends from the Rochester and Buffalo areas include those who made All American status; Curt Eggers (he is ranked 4th in the 50-54 age group! - sick!), his wife
Mary Eggers
, and Carl Johnson. Notable friends that hit All-American Honorable Mention status include;
me
:), Joseph Meyer, and Joe Niezgoda. (which ironically, we were the top 3 spots in the
Score-This!!! multisport series
this year...) If there is anyone I missed, I'm sorry, let me know and I will add you in later.
So congrats to everyone who had a stupendous season and my hopes are for 2007 that it be faster and better than 2006. Train hard and I'll see you on the roads. Cheers.